GREASE TRAP SERVICES IN OAKLAND
OAKLAND GREASE TRAP SERVICES
Oakland Grease Trap Services Provides Restaurant Grease Trap Cleaning and Maintenance
Why grease traps are important for businesses 
Running a commercial kitchen or a restaurant can be overwhelming. Aside from the demand to make tasty meals, you are always on high alert, ensuring that all equipment is functioning correctly to avoid hassles and delays in service.  
Grease traps are a critical part of your operation. It is a device designed to intercept most greases and solids before they enter a wastewater disposal system. Your whole plumbing system can malfunction simply because of a dirty grease trap. It clogs and allows waste to flow back through the drains.  
Poorly maintained grease traps create a safety issue as your kitchen could back-up and overflow if the trap gets too full. The kitchen's indoor air quality will also degrade. Besides being a health hazard, rotten materials in the trap cause terrible odors surrounding your establishment, which is not pleasing to customers. 
If you are looking for a company that can provide you with the best service and results, look no further. Oakland Grease Trap Services provides excellent indoor and outdoor grease trap services, 24-hour customer support, cost-effective solutions, and competitive price points. That is why we are the leading choice for grease trap cleaning in Oakland, California. 
Free Estimates
Free On-Site Consultations
SEND US A MESSAGE
(Yes - we check our messages & will reply)
We Price Challenge Any Licensed Competitor's Written Estimate
Understanding How Grease Traps Work
If you run a restaurant or a business that requires heavy use of the kitchen, grease buildup in plumbing is a common problem. If grease can build up too heavily, your lines will become clogged and backed up. Your kitchen will not function efficiently without properly flowing lines. Additionally, this can be a health hazard to you and your employees. 
A device referred to as a grease trap or inceptor acts as a holding tank that prevents food solids and grease from entering the sanitary sewer system.  
Wastewater with fats, oil, and grease from the cooking facility enter the trap. Once the food solid hardens, it settles to the bottom of the trap while the lighter fats, oils, and grease float and become trapped within the receptacle to allow for unrestricted flow. The separated water is then forced out to the sanitary sewer, and the food solids, fats, oils, and grease remain in the trap. This accumulates in volume daily and can cause spills if neglected; hence why grease trap pumping in Oakland is required on a regular basis. 
Oakland Grease Trap services provide removal and legal disposal of accumulated fats, oils, grease, and solid food waste.  
Warning signs of a clogged grease trap
Your grease trap makes the difference between clogged plumbing and pipes that run smoothly.  
Here are the signs that indicate your grease trap is clogged and in need of attention: 
Poor drainage and water flow in drains: This is one of the most common signs we find resulting from overlooked grease traps. When grease traps accumulate too much debris, they can no longer do their job of keeping your pipes clean. If you continuously have a sink full of wastewater that will not go down or drains very slowly, it is time to call in service.
Rotten Odors: When your trap is working correctly, there should not be any greasy or putrid smell that lingers in food preparation areas. Bacteria from decomposing fats, oils, and grease breeds in your pipes and causes unpleasant odors. If untreated, it becomes too noticeable and will reflect poorly on any restaurant.
More frequent clogging:  regular maintenance is needed to ensure that clogging does not worsen over time.  Even after a thorough cleaning, you will need to keep an eye out as oils, fats, and grease accumulate quickly, especially in high-volume kitchens.
Grease spills: For outdoor grease traps, backups in the main sewer line can cause wastewater and sewage to rise out of the utility hole covers. If the city determines that your business is a grease spill source, they can close it down until necessary repairs are made. To avoid any embarrassing ordeals, arrange for service sooner than later.
If it has been a while since your last grease trap cleaning appointment, it is advisable to call for professional assistance. Having a trained professional evaluate the situation and diagnose things correctly allows you to keep your kitchen operating. Oakland Grease Trap Services provide regular comprehensive maintenance for your grease traps. We offer the most efficient grease trap cleaning in Oakland, California so you will not waste time and money on the wrong solution.  
Reasons why your business needs grease trap cleaning in Oakland, California
Having your commercial grease trap cleaned and maintained will help you avoid costly backups and overflows, and prevent: 
Monetary fines and citations

Foul odors and low air quality

Complaints from customers and staff

Backed-up plumbing and flooding issues

Food contamination

Health issues

Pest infestations

Business interruption and closures

Costly remediation services
Reliable restaurant grease trap cleaning services from Oakland grease trap services
Known as the number one choice in grease trap services in Oakland, CA, we understand that managing a commercial kitchen can be stressful and hectic. Having to call many companies for a variety of services can be very time-consuming. Oakland Grease Trap Services is your one-stop-shop for all grease trap maintenance and cleaning services in the greater Oakland area. 
We know that time is an asset that we cannot waste or regain. No need to scroll through the list when googling "grease trap service companies near me in Oakland." As the most reputable company that offers grease trap services in Oakland, we provide nothing but excellent commercial businesses service.  
We offer the following services: 
Regularly scheduled maintenance

:  We can set up a time-and-money-saving schedule, or we can get there quickly when you call. Either way, rest assured you will get the top-quality grease trap maintenance from the best-known name in the city.

Trap cleaning

: Our team of professionals thoroughly pumps your grease trap, eliminating health hazards and odor associated with an inadequately maintained system.

Rodding and jetting

: Unlike some services that merely skim the trap or leave hardened deposits, our industry-standard equipment cleans the entire grease trap and scrapes away hardened grease, rod out clogged sections, remove debris, and ensure less accumulation for the future.

Inspection and Repair

: After each service stop, we will provide you with a detailed report of the work we performed on the grease traps. We will also inform you of any necessary repairs.

History reports

:  Knowing about past issues can help identify potential problems that may occur

in the future. As a long-term client, you have access to an accurate record of each service call and your grease trap condition.

Compliance with regulations

: FOG regulations can vary by municipality, county, and/or state. Our professional team at Oakland Grease Trap Services ensures your traps are being serviced and trap material is being disposed of in compliance with grease trap service requirements in Oakland, CA to avoid fines and penalties. 

On-demand emergency 24/7 cleanup

:  We have built a team of professionals committed to providing customers with nothing less than exceptional service at any time of the day. You can rely on high quality and immediate service response time. 
Does your business need commercial grease trap cleaning services?
There are several methods of cleaning a grease trap that may be mandated by local regulations. Those include cleaning, record-keeping, and disposal of trap material, which are quite extensive and can concur hefty fines if not complied with. We do not recommend that store owners do the maintenance themselves. 
Oakland Grease Trap Services is a reputable, licensed service provider who is up to date on any regulations that apply to Oakland, CA. Our customers know us to provide the best grease trap services in Oakland. We have worked with hundreds of businesses in Oakland to ensure immediate and cost-effective solutions. As a trusted name in grease trap cleaning services, our clients include: 
Restaurants

Cafeterias

Schools

Supermarkets

Hotels

Country clubs

Food production facilities

Manufacturing facilities

Hospitals

Stadiums

Nursing homes

Event centers

Shopping malls

And more
If you have ever searched for grease trap pumping companies near me in Oakland, you can see Oakland Grease Trap Services on the top of the list. We are the professionals you can rely on to keep your business in check when it comes to grease traps.  
The cost of professional grease trap cleaning
The cost to clean a grease trap or grease interceptor is based on the condition of the device. If the unit is cleaned and serviced regularly, it will be less costly versus a device that has been neglected. 
Regardless of your grease trap's condition, we can get the job done. Not all grease trap service companies in Oakland can provide honest and reliable service.  At Oakland Grease Trap Services, we provide accurate estimates, so that there are no surprises or unexpected charges. Give us a call today, and we will work out a cost-effective solution that suits your needs and budget! 
Servicing grease traps are important
Every food establishment is required to install a grease trap to prevent solid food, fats, oil, and grease (FOGs) from entering the public septic system attached to the business. This is mandated because FOGs can clog plumbing lines and harm Oakland's sewer systems. 
The length between cleanings depends on the type of restaurant you run, the amount of grease you have in your trap, and your scheduling availability. We recommend servicing everyone to three months at the very least or once the grease trap reaches 25%-30% grease and solids combined. 
When you call on Oakland Grease Trap services, we will offer you the most excellent grease trap cleaning in Oakland and make sure we dispose of it properly, so you do not run into any plumbing issues in the near future. 
We understand the compliance side of your food service business
Restaurant grease traps can make or break your business. Each city and/or state has its set of regulations regarding traps and what makes them compliant. This involves dependable commercial cooking equipment and appliances, including a properly functioning commercial grease trap. 
With Oakland Grease Trap Services, we pride ourselves in helping your business succeed by keeping up to date with the codes and regulations in Oakland, California. You will not lose sleep worrying because rest assured you partner with the most reliable and environmentally conscious company in Oakland, CA.  
Our grease trap cleaning process
Grease trap cleaning is a service offered by many grease trap cleaning companies in Oakland, CA.  
Are you in need of cleaning for your grease trap? You have come to the right place!
Here is a list of why you should choose Oakland Grease Trap Services: 
We keep your grease trap clean to ensure your establishment is always in compliance with the city and health regulations. We assess the size of the trap, the volume of grease, and local ordinance specifications, and we set up a tailor-made grease maintenance schedule to ensure that your grease trap system runs efficiently to avoid any interruptions and delays in running your business. 
Our grease trap cleaning services are comprehensive and accurate. It includes removing fats, oils, grease, wastewater, and solids, complete waste pumping, and scraping

the accessible walls inside the grease trap.
Our team of certified technicians thoroughly inspect your system and note any necessary repairs that may incur additional costs in the future. This detailed examination includes looking for excessive grease and solids in the trap, broken tee pipes, the integrity of baffles, and utility hole covers. 
We believe in integrity and transparency; that is why we provide a complete manifest report with full details of the services and procedures we performed so you can understand your grease trap servicing process and keep records.
Our technicians are highly skilled and trained to industry standards to provide incomparable service quality for your grease management needs. We are known to provide the best grease trap pumping in Oakland, CA.
As an ecologically minded company, we partner with a licensed waste management facility to ensure proper disposal of the FOGs.
Choosing us, you are guaranteed to receive quick service, competitive pricing structure, and high-quality grease trap cleaning in Oakland, CA. 
Common questions about grease traps
Why do I need a grease trap? 
For businesses in the food industry: grease, fats, and oils are significant enemies of the drains, garbage disposal, and sewage lines. When they cool, they turn into a waxy substance that sticks to drainpipe walls and becomes a major cause of slow drains and total clogs. Regular drain cleaning from professionals maintain cleanliness, minimize downtime plumbing issues, and minimize the impact on the environment. 
How do I maintain my grease trap? 
By now, you understand that grease trap cleaning is not optional. When running a food service company, it is necessary to have a grease trap installed and routinely serviced. Let us look at what businesses can do to maintain their grease trap: 
Always examine the trap for any wear or damage. This includes checking that the gasket sealing the lid to the trap is flush with no visible tears. If you are unsure, call a professional for a thorough inspection. It may seem small, but it can quickly escalate into an issue that requires expensive cleaning and emergency plumbing services. 

A growing foul odor indicates a high likelihood that the grease trap is overflowing or needs a replacement.

Train kitchen staff and other employees on how they can help ensure the best grease management practices are implemented. Some helpful tips include using strainers in sinks to catch food scraps and other solids, throwing solids into the trash bins prior to washing, recycling cooking oil, and limiting garbage disposals.
By keeping your grease trap properly maintained, you can prevent the trap from overflowing and avoid expensive plumbing bills. Regularly cleaning your trap also prevents untimely shut-downs, costly fines, and unpleasant odors which can be off-putting to your customers. The experienced service technicians in Oakland Grease Trap Services can help prevent grease trap issues even before they happen by offering you the best grease trap pumping services in the city. 
Is trap grease recyclable? 
Whenever we service a location for grease trap pumping in Oakland, our professionals pump out all the FOG waste from the grease trap to a truck using a large hose. After the grease trap is thoroughly cleaned, we take the waste to a licensed disposal facility. 
There are many ways grease trap waste can be recycled. When grease turns into a solid form, it can be mixed with sawdust, moss, and wood chips. This material can boost organic yields when applied to agricultural fields as a fertilizer. Another way is by separating brown grease from water and treating it to produce fuel called biodiesel. Most companies have developed the needed technology for FOG-to-fuel processes. 
As the best grease trap cleaning in Oakland, CA, Oakland Grease Trap Services is committed to a cleaner and more sustainable future. 
What size grease trap do I need? 
Grease traps do not come in a one-size-fits-all, the same way, not all commercial food establishments have the same needs. Smaller restaurants that produce significantly less grease require smaller traps and minimal servicing. On the other hand, large-scale restaurants would need larger traps and routine servicing. 
The size of the grease trap is based according to the rate of water flowing in gallons per minute (GPM). The number of sink outlets and applicable equipment such as glasswasher and dishwashers in your commercial kitchen is an added factor to determining this "flow". Therefore, the more flow of water you have, the larger your grease trap should be. 
Picking an improper size could lead to the following issues: 
Overflows or back-ups in your drainage systems.

 

Possible shut down for deep cleaning, resulting in untimely delay and eventually loss of profit.

 

It can also lead to FOG being released into the drainage system thus rendering the grease trap ineffective 

 
The expert technicians in Oakland Grease Trap Services can quickly provide you the proper grease trap size for your usage. Our excellent grease trap services in Oakland ensure that your grease trap functions properly to avoid costly and critical issues in the future. 
Where can I get a grease trap? 
Unfortunately, we do not sell, provide, or install grease traps at Oakland Grease Trap Services. We do have recommendations on commercial plumbers in the area that are trained and licensed to professionally install new grease traps according to Oakland's mandates and regulations. We can certainly guide you throughout the process. 
How often should a grease trap be cleaned and serviced? 
Although cleaning and maintenance depend on the overall size of the trap and the grease volume produced by the cooking facility, it is best to consult a reputable company to determine a fixed schedule.  
As the leading service provider in Oakland, we will work with your facility to create a tailor-made schedule that is compliant with your city's applicable regulations to avoid overflow and possible fines. Oakland Grease Trap Services will adjust that schedule according to your business' peak times of the year. You can rely on us to take care of everything. 
How to clean a grease trap? 
Grease trap cleaning is a labor-intensive job that can an unpleasant experience. 
For this very reason, we recommend that you hire our licensed technicians to handle the job. We are well-versed in Oakland's regulations and can ensure that the cleaning service is compliant and up to date according to city ordinances.  
Oakland Grease Trap Services provide the following services: 
Pump and return: Fats, oils, and greases are pumped out of a grease trap into our truck and taken away to a disposal facility. The separated gray water is then returned to your grease trap to mitigate foul odors.
Dry pump: With this arrangement, we completely remove the FOG material along with its accumulated gray water. Take note that this can emit strong odors while the grease trap is being filled up again.
No need to research "best grease trap pumping Oakland CA", our technicians at Oakland Grease Trap Services ensure that the waste from your grease trap is disposed of correctly and in accordance with the city and state's regulations. 
Is it okay to pour grease down the drain? 
Grease is the number one cause of drainage pipe overflows and backups. Poorly maintained grease interceptors at restaurants or other businesses cause sewer overflows and backups which result in environmental and health hazards. Additionally, improper grease management can lead to costly fines and mandatory shutdowns. 
It is a common misconception that pouring FOGs down the drain with hot water is okay. That is incorrect as this only moves the grease further down the sewer line. Once the water cools, the grease will begin to solidify and coat the pipes. Also, grinding food up on the sink before rinsing it down the drain does not remove FOG; it just breaks it down into smaller pieces. 
As a business owner, I have heard that I am responsible for my grease from cradle-to-grave. What does that mean? 
The owner/user of the establishment has the ultimate responsibility for inspecting, cleaning, and maintain grease traps. Additionally, improper disposal and grease overflow can cost thousands of dollars to service and can also cost you hefty fines and penalties. 
Therefore, it is important to work with the most competent and ethical company for grease trap cleaning in Oakland, CA. At Oakland Grease Trap Services, we provide quick and reliable grease trap pumping in Oakland to ensure your business runs smoothly all throughout the year. 
What are the fines if my grease trap overflows? 
Overflowing grease traps can cost your business up to $2,000 per violation per day, according to the Oakland City Code. It is mandated that each business ensure required servicing, correct recordkeeping, and proper FOG disposal to avoid shutdowns and penalties. 
Call Oakland Grease Trap Services to learn about Oakland's sewage and environmental ordinances. 
Can Oakland Grease Trap Services help with an overflowing grease trap? 
An overflowing grease trap is the result of a lack of maintenance in a timely manner. When an overflow happens, you will see that the waste from the first compartment is spilling over the second one. The worst part is that it will clog the crossover, outgoing, and incoming lines.  
If you have an interior grease trap that is overflowing, pumping, and cleaning usually solves the issue. If the issues persist, you may require the assistance of a plumber to clear any blockage. 
As we all know, prevention is better than cure. So, make sure you regularly schedule grease trap pumping in Oakland Grease Trap Services to eliminate the risk of clogs and to keep your grease management system flowing properly. 
Why does my restaurant smell after my trap was recently cleaned? 
A grease trap separates the FOG from the wastewater. When microorganisms break this organic waste, toxic elements such as hydrogen sulfide and sulphuryl gases are released. These gases are responsible for producing the nasty smell inside the grease trap. When there is a worn or corroded gasket around the manhole cover, the unpleasant gases escape from your grease trap and linger in your restaurant. 
Hence, it is important that your grease interceptors are pumped or cleaned on regular basis. We provide the most effective grease trap services in Oakland to ensure you will not encounter any foul odor after our service call.  
Do I need a grease trap if I have a grease interceptor? 
The difference between a grease trap and a grease interceptor is the flow rate of wastewater the unit can handle. Grease traps have a flow rate of fewer than 50 gallons per minute. Grease interceptors have a flow rate of more than 50 gallons per minute. They function the same so if you have one, you will not need the other. 
Does Oakland Grease Trap Services repair grease traps? 
Regular maintenance is the key to a smooth functioning grease trap. Although we provide a multitude of grease trap services in Oakland, we currently do not offer grease trap repairs, but we can provide accurate diagnostics of potential problems. For grease trap repair, a plumbing professional is required. At Oakland Grease Trap Service, we can make recommendations for qualified plumbers that will inspect the grease trap itself as well as surrounding plumbing and provide you with quality service.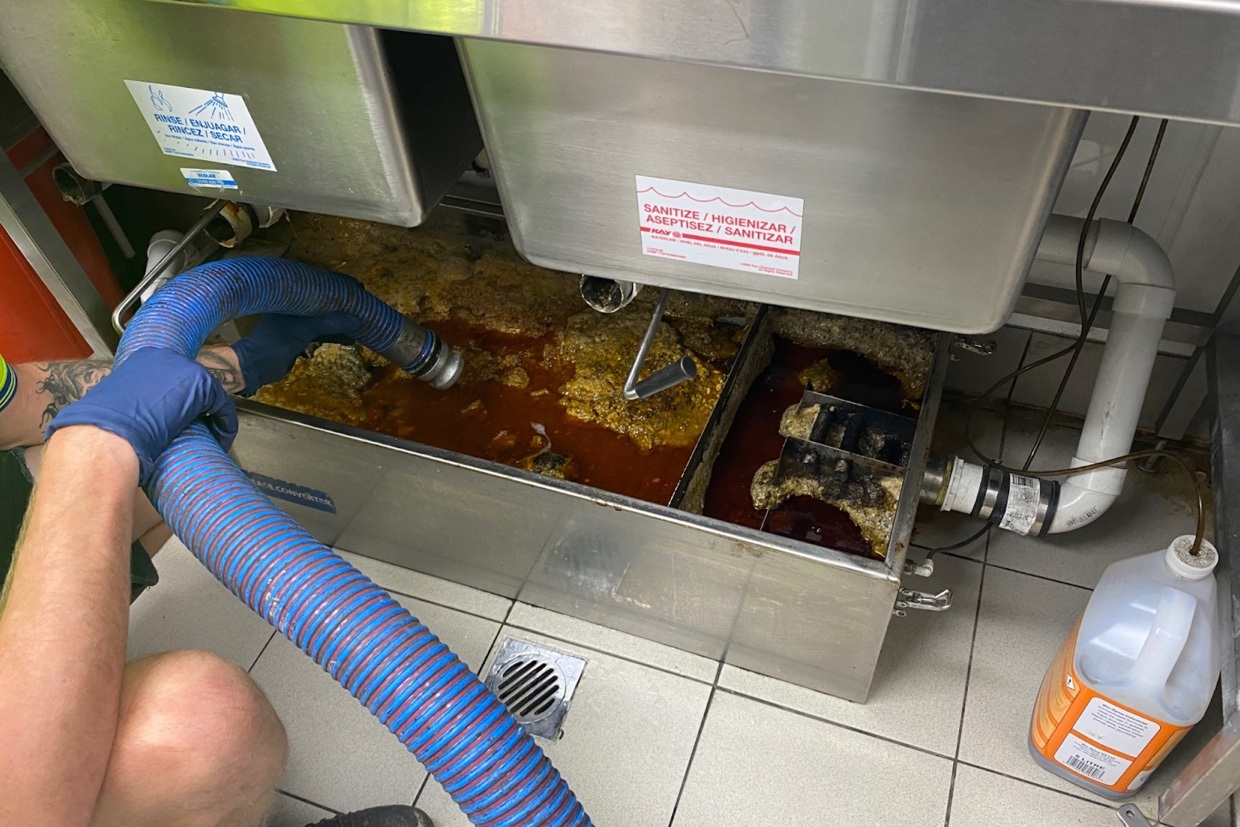 We Provide Free Estimates
Have a question? 
Want to talk to someone? 
Ready for a quote?